Cross Country sensation from Vorentoe Primary eying gold at WPACC Champs
by Thabiso Mazosiwe
The Western Province Athletics Cross Country Championships to be held this Saturday, 17 August 2019, at Fairmont High School, in Durbanville, promises to be  quite a spectacle as the highlight of the cross country domestic season with many cross country runners going into their respective races with their eyes firmly on winning gold.
One such athlete is youngster, 9-year-old JT Arendorf from Ravensmead, who will be representing his school, Vorentoe Primary at the championship event this coming Saturday.
JT has dominated his age group in the past two seasons winning all the Cross Country league events in 2018 and 2019. He recently won a gold medal at the Metro Northern Zone School Championships.
A very excited Mrs Arendorf, JT's mother, who is always there to support him said "JT is very eager for this weekend's race and that he is prepared and ready to go as he is a great challenger and is willing to challenge anyone for the big gold prize."
JT's coach, Valecia Swano added: "JT's development over the past 2 years has gone very well, he has really progressed as a Cross Country runner and with all the help of his support structure, he will be a future elite athlete for the province and will hopefully receive his Western Province Schools Cross Country colours on Saturday."
The WPA Cross Country Championships see the introduction of a new route to the Cross Country line-up and JT and other athletes will have their work cut out.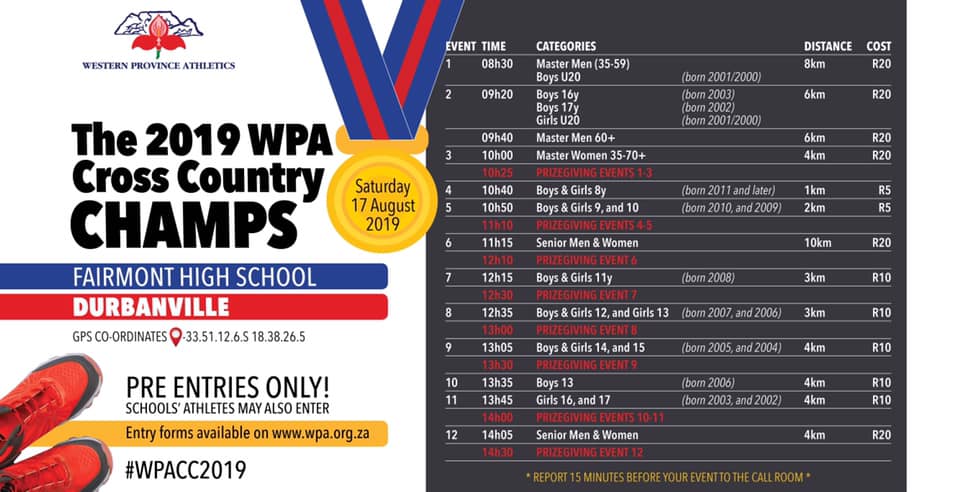 For more information contact media@wpathletics.co.za