Vernon Philander's strength isn't his extreme pace as a seam bowler, but rather it is his sublime skills and unique ability to conjure up magic with a cricket ball. 
Philander' produced a brilliant career-best 6/42 bowling display taking three wickets in four balls to seal South Africa's win over India by 72 runs in the first test match at Newlands on Monday.
His heroics with the cricket ball conjured up a sense of nostalgia that saw me battling to hold back the tears.
For those sports fans who grew up in the 1980's and were lucky enough to witness, Daniel "Spooky" September, in action in the last line of defence for the then Tygerberg Rugby Union in Saru's non-racial SA Cup competition in the 1980's – Philander's heroics comes as no surprise.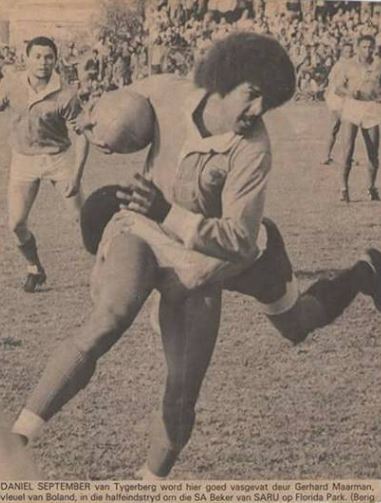 The Proteas opening bowler's father, "Spooky", as he was fondly known, was one of the best fullbacks I ever set eyes on a rugby field.
Not only was Spooky as safe as a house under the high ball, but his superb handling, searing pace and scintillating skills with the oval ball made him one of the most exciting rugby players I have ever seen.
Monday I had the privilege to witness that magic once again. Ironically this time it wasn't on a dusty Cape Flats rugby field but on the pristine turf of Newlands.
Like his father, the 32-year-old from the Cape Flats has the unique talent to create something special with a ball in his hand.
Philander not only has the ability to move the cricket ball both ways at a sharp speed., but he also has the guile and acumen to relentlessly attack the stumps accurately, over long spells.  Similarly, his old man was not only devastating with ball in hand but his biggest weapon was his booming boot.  Spooky used this to great effect on many occasions to punish opposing sides.
Vernon grew up with his mother, Bonny, his grandparents, Lea and Mitchell, and his younger brothers, Tyron, Brandon, and Darryl in a biscuit-coloured house with a golf-ball postbox in 7de Laan, in the Cape Flats suburb of Ravensmead.
Ravensmead is the home of Florida Park and Tygerberg Rugby Union where Spooky made a name for himself as a rugby player.
Sadly because of the dreaded Apartheid laws at the time, Spooky never had the privilege of representing the Springboks and gracing the hallowed turf of the Newlands Rugby Stadium.
However, for the lucky few that saw Spooky in action, there is no doubt that like his son, he would have worn the Green and Gold.